Oxymatrine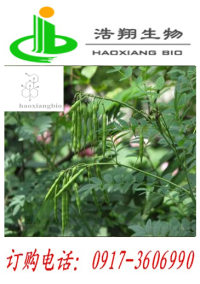 Oxymatrine
Product name:Oxymatrine
CAS#16837-52-8 Purity:98%
Molecular Formula:C15H24N2O2
Molecular Weight:246.36 g/mol
Plant origin:Leguminous plant products of sophora flavescens root extract, sophora alopecuroides plants
Physical properties: melting point 207 ℃ -208 ℃, soluble in water, methanol, chloroform, benzene, difficult to dissolve in ether
Production process: mainly by water extraction, extraction, crystallization and other processes to complete
Effective ingredients:Matridin-15-one,l-oxide.(1β)-; C15H24N2O2
Character:White needle or prismatic crystals or white powder, No odor
Shelf Life: Two years under well Storage situation and stored away from direct sun light.
Main ingredient (API) matrine (Matrine, C15H24N2O) 98%HPLC. CAS: 519-02-8;
Matrine (Oxymatrine, C15H24N2O2) 98%HPLC
Matrine: matrine extract powder 5% 10% total matrine (extract) 4% 20% 40%
Total alkaloids of Radix 70%, 80%, 90%
0.3% matrine aqueous pesticide
In ethanol, chloroform, toluene, benzene, easily soluble, readily soluble in acetone, dissolved in water, hot water, petroleum ether and slightly in solution.
Pharmacological Action:Improve the leucocyte deficiency symptoms so as to enhance the body's immune function;Resist fungi, antibiotic, It is effective in dealing with trichomonad vaginitis, flagellate disease,amoeba dysentery and fungus dysentery,etc,It can cure tonsillitis, mastitis, smooth the asthma etc.when taken orally.;It is also be widely used in pesticide because of it"s cheap price.
Haoxiang Bio Production specifications: 20mg, 50mg, 100mg, 1g, 10g, 100g, 1kg, 50kg
Packing: Aluminum foil, plastic