Ginger P.E.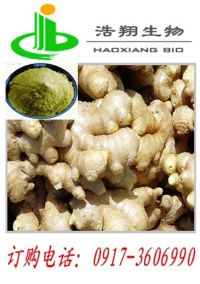 Ginger P.E.
Plant origin:Ginger plant extracts
Character:Light yellow fine powder, fragrance, taste spicy.
Specifications and test methods:Gingerol≥5%HPLC
Effective components:Containing the essential oil and oleoresin, which gingerol category are: ginger alcohol ( Gingerols ) ginger glycols ( Gingediols ), ginger phenols, ginger ketone ( Gingerone ), Jiang Er ketone ( Gingerdones ).
Pharmacological effect:Anti gastric ulcer, stomach, liver, gallbladder, strong heart, inhibition of platelet aggregation, corona, antitumor, central inhibition, enhance immunity, insecticidal, antibacterial, anti-inflammatory effect, but also has strong antioxidant ability.
Packing specification:1Kg/bag, 5Kg/bag, 25 kg/barrel or according to customers' requirements