Radix isatidis P.E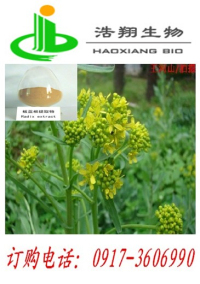 Radix isatidis P.E
Plant origin:Cruciferae isatis Isatis indigotica Fort . root extraction and drying
In line with the CP2010standard production
Distribution:The main production in Shaanxi, Gansu, Hebei, Henan, Zhejiang and other places.
Pharmacological effect: Radix Isatidis containing mustard glucoside ( Sinigrin ), indigo jade red, vermis indole glycoside ( indoxrylglucoside ), BETA - sitosterol, adenosine ( adenoside ), palmitic acid and sucrose.
Pharmacological effect: Heat clearing and detoxicating, cooling blood and relieving. In seasonal febrile disease, plaque, pharyngitis, erysipelas, carbuncle swollen; prevention and control of epidemic encephalitis, acute and chronic hepatitis, mumps, osteomyelitis.
Traits: Brown powder, has its inherent fragrance plant.
Packing specification:1Kg/bag, 5Kg/bag, 25 kg/barrel or according to customers' requirements