Sodium Tanshinone IIA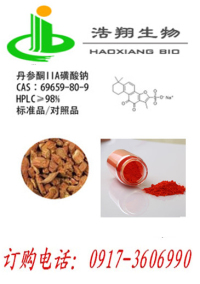 Sodium Tanshinone IIA
Plant origin: Isolated from labiate plants of Salvia diterpene quinone compounds tanshinone II A, by sulfonation and water soluble substances.
Properties:This product is a brick red crystalline powder; odorless, slightly bitter taste; with a moist; in case of high fever, see deep color gradient. This product is dissolved in hot water, slightly soluble in methanol or ethanol, insoluble in chloroform.
CAS#69659-80-9
Molecular Formula: C19H17Nao3so3NaorC19H17NaO6S
Molecular Weight: 396.39 g/mol
Determination of content:Take the product of about 25 mg, precision, and placed in a 250ml flask, diluted with water to the scale, shake, precision measure 5ml, home 100ml volumetric flask, add water, diluted to the scale, shake, using spectrophotometric method (Chinese Pharmacopoeia 2000 edition 2 Appendix IV A), in (271 + 2) nm absorption degree was determined by and calculation to 767 by absorption coefficient of the - C19H17Nao3so3Na.
Content specification:98%
Haoxiang Bio Production specifications: 20mg, 50mg, 100mg, 1g, 10g, 100g,
Packing: Aluminum foil, plastic