Glycyrrhizic acid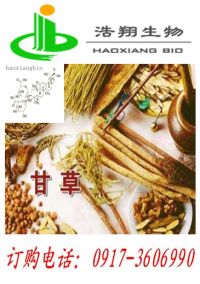 Glycyrrhizic acid
Glycyrrhizic acid is the most important active ingredient in licorice, which has obvious anti diuretic effect. Glycyrrhizic acid and its series products, of sarcoma, a cancer cell growth inhibition, of AIDS inhibition rate up to 90%, the strong increase the body's immune function, but also a very good food additives and spices base material. There is no significant damage to the vital organs of the licorice. A small number of patients may appear edema after taking the medicine, and some symptoms such as chest tightness can occur.
Latin name: Radix Glycyrrhizae
Alias:Glycyrrhizinic Acid;
Glycyrrhizin; Liquorice Root P.E.;
(3beta)-30-hydroxy-11,30-dioxoolean-12-en-3-yl 2-O-beta-D-glucopyranuronosyl-alpha-D-glucopyranosiduronic acid; Triammonium
(2S,3S,4R,5R,6R)-6-[[(3S,6aS,8aS,11S,12aR,14bS)-11-carboxylato-4,4,6a,8a,11,14b-hexamethyl-14-oxo-1,2,3,4a,5,6,6b,7,8,9,10,12,12a,14a-tetradecahydropicen-3-yl]oxy]-3-[(2R,3R,4S,5S,6S)-6-carboxylato-3,4,5-trihydroxy-tetrahydropyran-2-yl]oxy-4,5-dihydroxy-tetrahydropyran-2-carboxylate
CAS#1405-86-3
EINECS:215-785-7
Molecular Formula: C42H62o16
Molecular Weight: 822.92g/mol
Boiling point: 1050.9°C at 760 mmHg
Purpose: As a drug, has anti-inflammatory, anti allergy; as a sweet agent, widely used in various types of food.
Properties: This product is a white crystalline powder, no smell, there is a special sweet taste.
Main use:
(1) it is a high sweetness low calorific value of health sweeteners, the sweetness is about 250 times more sucrose; can be added to food, beverages, confectionery industry as sweetener, can also in yellow or brown food, beverage doubles as a natural pigment.
(2) the pharmaceutical industry: for the antitussive and expectorant, gastric ulcer, acute gastritis, eczema, skin itching, hepatitis, high-fat hyperlipidemia, conjunctivitis, and used in the treatment of cancer and AIDS.
(3) cosmetics and tobacco industry; can prevent skin inflammation, skin rash, throat dry, sun, etc..
(4) licorice extract can be activated cortical steroid compounds inhibit metabolic enzyme), indirectly enhance the role of cortical steroid compounds can used in cream, paste, water, lotion, cream, milk and honey, all cosmetics, it can neutralize or remove or reduce cosmetics toxic substances can also be to prevent allergic reactions in some cosmetics, more suitable for senior hair or skin cosmetics.
(5) licorice flavonoids ingredients, with a moderate inhibition of the role of tyrosinase, licorice extract has been proved to be the most effective plant whitening agent.