Berberine Hydrochloride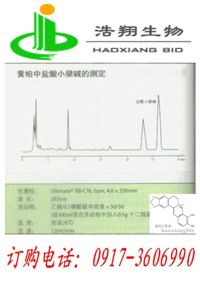 Berberine Hydrochloride
Product name:Berberine Hydrochloride
CAS#633-65-8 Purity:98%
Molecular Formula:C20H19CLNO4
Molecular Weight:336.37 g/mol
English name: Berberine Hydrochloride Berberine Sulphate
Plant origin:Berberis jamesiana,Coptis chinensis, cortex phellodendri
Accord with standard of produce CP2010edition pharmacopoeia
Berberine hydrochloride synonyms HuangLianSu hydrochloric acid
Effect: Berberine Hydrochloride is used for the antibiotic dysenteric bacili, for three HuangPian intestinal infection, compound HuangLianSu chips HuangLianSu hydrochloric acid.
Quality assurance, credibility first, low price is our purpose!
(Commonly known as berberine hydrochloride) has been widely used in the treatment of enteritis, bacillary dysentery, pulmonary tuberculosis, scarlet fever, acute tonsillitis and respiratory tract infection also a certain effect.
Oral once 0.1 - 0.3g, 3 times a day. Topical and topical application of drug concentrations of 1% - 0.6.
Tablet containing berberine hydrochloride dosage: 0.05g; 0.1g; 0.025g
Haoxiang Bio Production specifications: 20mg, 50mg, 100mg, 1g, 10g, 100g, 1kg, 50kg
Packing: Aluminum foil, plastic