Cryptotanshinone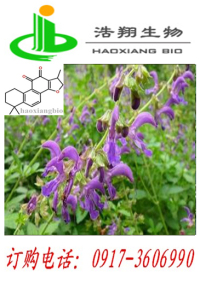 Cryptotanshinone
Product name: Cryptotanshinone
CAS#35825-57-1 Purity:98%
Molecular Formula:C19H20N3
Molecular Weight:296.36 g/mol
Product source: Salvia miltiorrhiza (Salvia miltiorrhiza Bge) is the dried root and rhizome
Cryptotanshinone is from the dried root and rhizome of Labiatae plant Salvia (Salvia miltiorrhiza Bge) extraction, separation and purification of active monomers.
Cryptotanshinone;(R)-1,2,6,7,8,9-Hexahydro-1,6,6-trimethyl-phenanthro(1,2-b)furan-10,11-dione
Physical properties: Orange needle like crystals. Soluble in methanol, ethanol, benzene, ether, soluble in acetone, chloroform. Red with concentrated sulfuric acid. Under the condition of avoiding light and non solution, the most stable. Melting point of 184 degrees to 185 degrees Celsius, soluble in chloroform, soluble in organic solvents such as methanol, slightly soluble in water.
Haoxiang Bio production process: Mainly by extraction, chromatography, crystallization, drying complete.
Haoxiang Bio Production specifications: 20mg, 50mg, 100mg, 1g, 10g, 100g, 1kg, 50kg
Packing: Aluminum foil, plastic