Naringin dihydrochalcone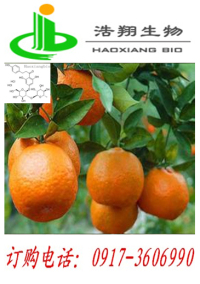 Naringin dihydrochalcone
Product name: Naringin dihydrochalcone
CAS#18916-17-1 Purity:98%
Molecular Formula:C27H34O14
Molecular Weight:512.58g/mol
English alias:
Dihydroxy-4-(p-hydroxyhydrocinnamoyl)phenyl 2-O-(6-deoxy-a-L-mannopyranosyl)-, b-D- (8CI);Phloretin, 4'-(2-O-a-L-rhamno-b-D-glucopyranoside) (6CI);
Plant origin: Rutaceae pomelo (Citrus grandis) fruit, grapefruit (Citrus paradisi), orange, orange peel and pulp, through acquisition of drying, crushing the use of modern biotechnology pure natural extract and.
Product Description: Belong to two kinds of flavonoids, the appearance of white. To check the naringin dihydrochalcone chalcone (naringin, dihydrochalcone, on DC) is found a isolated from naringin artificial sweeteners, a citrus bitter compounds; naringin dihydrochalcone check chalcone in 60s of the 20th century United States Department of agriculture about looking to reduce in citrus juice bitter spice project and neohesperidin dihydrogen check chalcone CO was found. When naringin with potassium hydroxide or other alkali in the reaction of the catalyst were hydrogenated to produce a threshold sweetness is about threshold sweetness of sucrose 300 times to 1800 times compound naringin dihydrochalcone.
Pharmacological effects: Naringin dihydrochalcone products as a new sweetener, its sweetness compared with sucrose, 500-700 times that of sucrose, and has high sweetness and low calorific value, non-toxic, safe and can be used in food, medicine and cosmetic industry. And because the fresh taste, lasting aftertaste, and with special fragrance, with excellent shielding bitterness efficacy and naringin dihydrochalcone especially in dairy products, fat and oil, frozen food, vegetable processing, jelly, jam, no alcohol beverages, chewing gum, toothpaste and troche in. Naringin dihydrochalcone as a substitute of sugar, but also can reduce the body's intake of sugar, to prevent obesity and should not be sugar patient is undoubtedly a good news.
Haoxiang Bio Production specifications: 20mg, 50mg, 100mg, 1g, 10g, 100g, 1kg, 50kg
Packing: Aluminum foil, plastic