Rotenone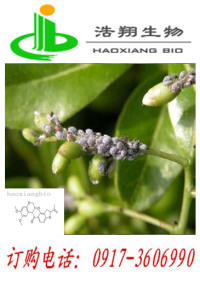 Rotenone
Product name: Rotenone
CAS#83-79-4 Purity:98%
Molecular Formula:C23H22O6
Molecular Weight:394.42g/mol
English alias: Dactinol Nicouline Rotocide Tubatoxin
(2R,6aS,12aS)-1,2,6,6a,12,12a-Hexahydro-2-isopropenyl-8,9-dimethoxybenzopyrano[3,4-b]furo[2,3-h]benzopyran-6-one
Extracted with organic solvent containing rotenone plants, such as Derris, roots of plants of the genus Buddleja beans or grey leaf and concentrated extraction liquid, filtering, can be crystallization to obtain the product.
Rotenone is an insecticide, molecular formula C23H22O6. Exist in tropical and subtropical Asia region produced bean carangid rattan genera in roots and in some herbs such as melon seeds, bitter Tan, Kunming Millettia root in also contain Rotenone widely exist in plant root barks and in toxicology is a special property of strong material, to insects especially Pieris rapae larvae, Plutella xylostella and aphid has a strong contact toxicity and stomach poison two effects. Early studies showed that the mechanism of rotenone is mainly affected by insect respiration, mainly interact with one of the components of the NADH dehydrogenase and coenzyme Q between. Rotenone enable insect cell electronic transmission chain was inhibited, thereby reducing organisms within the ATP level and finally to the pest to supply energy and delaying action, paralysis and slow death.
Use of rotenone
1. This product is for selective insecticidal, acaricidal agent, used in rice, vegetables and fruit trees in the control of aphids, cotton red spider, bee. No phytotoxicity.
2 In the light of rotenone is easy to oxidize to dehydrorotenone and lose the insecticidal activity. Is mainly used for vegetables, fruit, tea, flowers and other prevention and treatment of various crops aphids, mites, Tingidae, melon flies, Mamestra brassicae, Spodoptera litura, thrips, yellow stripe flea beetle, Aulacophora femoralis, Henosepilachna vigintioctopunctata, Euproctis pseudoconspersa, tea geometrid and other, can also be used for the prevention of sanitation pests, such as mosquitoes, flies, fleas, lice and other.
Packaging storage: Nature is not stable, in the sunlight, air, high temperature, moisture, alkaline substances, such as the existence of easy decomposition failure. In the case of relatively stable dry Shuo
Plastic bag sealing packaging. Store in a cool, dry and ventilated place. Must not be stored with food or feed. Do not make children close to.