Apigenin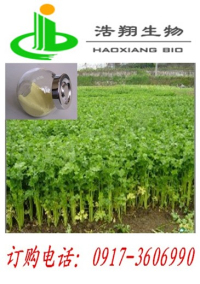 Apigenin
Product name:Apigenin
CAS#520-36-5 Purity:98%
Molecular Formula:C15H10O5
Molecular Weight:270.24g/mol
Plant origin:An umbelliferous plant celery leaves, also widely exists in a variety of fruits, vegetables, beans and tea, Scrophulariaceae bastard speedwell, Polygonum cuspidatum hairy leaves, Liliaceae Veratrum, Pinaceae plants.
Physical properties:the melting point of 347to 348 DEG C, almost insoluble in water, soluble in ethanol and heat part, soluble in dilute solution of KOH
Properties:Yellow needle crystal powder
Chemical property:Apigenin With inhibition of carcinogen carcinogenic activity; as a treatment for HIV and other viral infections antiviral drugs; MAP kinase inhibitor; the treatment of various inflammatory; antioxidants; calm, soothe the nerves; buck. And other flavonoids ( quercetin, kaempferol flavone ) compared with low toxicity, no mutagenic characteristics.
Packing specification:1Kg/bag, 5Kg/bag, 25 kg/barrel or according to customers' requirements