Paeoniflorin P.E.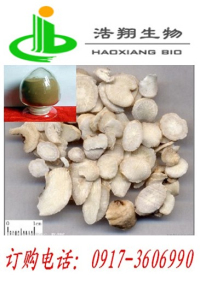 Paeoniflorin P.E.
Plant origin:As the Ranunculaceae plant peony root
Place of production:Heilongjiang, Jilin, Liaoning,distribution of Hebei,Henan, Shandong, Shanxi, Shaanxi, Inner Mongolia and other places. Throughout the country have cultivated.
Active ingredients:contain paeoniflorin, peony lactone glucoside, oxypaeoniflorin, benzoyl paeoniflorin, peony glycosides, such as hydroxyl paeoniflorin.
Product appearance:brown or light brown fine powder.
Pharmacological effects:Radix Paeoniae Alba the main active ingredient of paeoniflorin. The compositions have increased coronary blood flow, improving myocardial blood infusion, dilation of blood vessels, against acute myocardial ischemia, inhibition of platelet aggregation, sedation, analgesia, anti-inflammatory, pain relieving, ulcer and other role; especially in strengthening the immune function, has a good effect. Further research is indicated, white peony root on hepatic macrophages injury has a protective effect, can make the peritoneal macrophage phagocytosis increase30%, so it can enhance the body resistance. At the same time also confirmed fried white peony root main nourishing, different primary liver.
Specifications:Paeoniflorin 8%、10%、20%、50% HPLC
Packing specification:1Kg/bag, 5Kg/bag, 25 kg/barrel or according to customers' requirements