Pueraria P.E.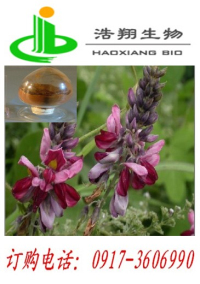 Pueraria P.E.
Plant origin:For leguminous Pueraria lobata Pueraria Lobata ( Willd. ) Ohwi root
Place of production:Grass slope, roadsides, sparse forests in more humid. Production Hunan, Zhejiang, Henan, guangdong.
Effective components:With a variety of flavonoids, the main active ingredients of soybean peptide ( daidzein ), soybean glucoside ( daidzin ), ( puerarin ), puerarin puerarin - 7 - xyloside ( puerarin-7-xyloside ) etc..
Appearance: Brown or brown yellow fine powder
Pharmacological effect: Stopping diarrhea. For exogenous fever headache, neck pain, hypertension, diabetes, strong thirst measles airtight, heat dysentery, diarrhea. Kudzu root isoflavones in puerarin on hypertension, hyperlipidemia, hyperglycemia and cardiovascular and cerebrovascular diseases have a certain effect.
Content and detection method:Kudzu root flavone 40% 60% UV HPLC
Packing specification:1Kg/bag, 5Kg/bag, 25 kg/barrel or according to customers' requirements