Billberry P.E.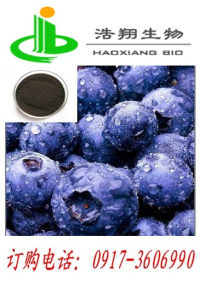 Billberry P.E.
Plant source:Vaccinium, perennial deciduous or evergreen trees, shrubs. Scientific name Vaccinium spp.
Blueberry has about 130 species, distributed in the Northern Hemisphere from the Arctic to tropical alpine region. In China there are about 20species, widely distributed in the northeast and southwest mountain
Pharmacological effect:
1,Increased capillary flexibility, can promote the expansion and extension of pure blood vessels, preventing blood vessel rupture.
2,Antioxidant, can eliminate the vascular sclerosis of free radicals, prevent arteriosclerosis, therefore blueberry was named " the circulatory system in the capillaries of the repairman.
3,Cranberry can strengthen in the eyes of the capillary, but also can strengthen the other body organs and tissues in the capillaries, to prevent each organ vascular lesions.
4,Free radical elimination: when free radicals by DNA cells" DNA ", is the start of cancer. Bilberry is an antioxidant, it is a free radical 's nemesis, it is clear the free radical scavenger.
Packing specification:1Kg/bag, 5Kg/bag, 25 kg/barrel or according to customers' requirements