Loquat Leaf P.E.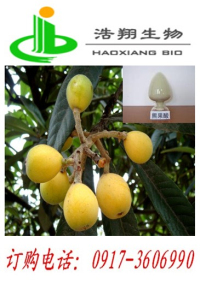 Loquat Leaf P.E.
Product name:Loquat Leaf P.E.
Plant origin:This product is the dried leaves of loquat.
Place of production:The cultivation, Sichuan, Hubei wild
Effective components:Containing amygdalin, ursolic acid, oleanolic acid, vitamin B1, and C, tannins, organic acids, sugars and so on.
Product appearance:brown yellow or light yellow fine powder.
Content and detection method:10% 20% 25% Ursolic Acid CAS#77-52-1 HPLC
Pharmacological effect:Qingfei Zhike, Jiangni vomiting. For lung heat cough, hasty panting, inverse gas stomach vomiting, vexation heat and thirst.
Packing specification:1Kg/bag, 5Kg/bag, 25 kg/barrel or according to customers' requirements