HoneySuchle Flowers P.E.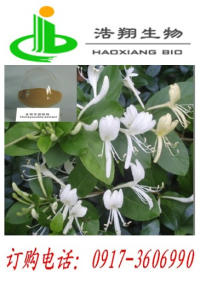 Honey Suchle Extract
Product name: Chlorogenic acid
CAS#327-97-9 Purity: 5% 8% 10% 20% 40% 50% 80% 90% 95% 98%
Molecular Formula: C16H18O9
Molecular Weight: 354.30g/mol
Plant origin: The plant of Caprifoliaceae honeysuckle(Lonicera japonicaThunb)
Appearance: Yellowish brown powder
Character: From honeysuckle, eucommia, sunflower, coffee bean extraction of natural products. Products dissolved in water, dilute ethanol, acetone, not soluble in ester, in a stable under the acidic condition. The maximum absorption peak of324nm, with the increasing of content of solubility in water and reduce.
Effective components: Chlorogenic acid
Preparation method: Honeysuckle extraction with water, and then by resin adsorption, separation and purification process and. In spray drying and
Pharmacological effect: Inflammation, detoxification, clearing heat, can strengthen the body defense mechanism, promote central excitability, hypolipidemic effect.
Packing specification: 1Kg/bag, 5Kg/bag, 25 kg/barrel or according to customers' requirements