Pyethrins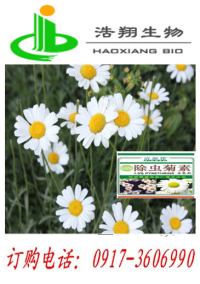 Pyethrins
Product name: Pyethrins
CAS#8003-34-7 Purity:25% 50%
Molecular Formula:C21H28O3 C22H28O5 C20H28O3
Molecular Weight:328.43g/mol 372.44 g/mol 316.42 g/mol
Product shape: Light yellow to dark brown liquid
Pharmacological action:
Insecticidal effect: pyrethrum has toxic effects on a variety of insects such as mosquitoes, flies, cockroaches and other bugs. Insect contact with the 1-2 minutes after the emergence of the pest, the excessive excitement, movement disorders, rapid knock down and paralysis. Pyrethrum is typical of the nerve poison, direct role in excitable membranes (ex-citable membranes, ion conduction interference film, primarily affects the nerve membrane sodium channels, the excited when nano increase in conduction disappearance of delay, resulting in transmembrane sodium extending the flow, caused by sensory nerve fibers and motor axons and repeated activities, short nerve cells to polarization and sustained muscle contractions. At high concentrations, the inhibition of the ion conduction of the nerve membrane, blocking the excitement.
Packing specifications: 25KG/ barrel
Shelf life:24 months
FAO / who recommended deltamethrin ADI value 0.01 mg per kilogram of body weight, fenvalerate ADI value 0.02 mg per kilogram of body weight, permethrin ADI value of 0.05 mg per kg of body weight
What are the characteristics of the insecticide, which are the characteristics of the insecticide
The insecticide has the advantages of high efficiency, broad spectrum, low toxicity and low residue. However, most of the species are toxic to aquatic organisms, poor selectivity to natural enemies, and no internal absorption. The following characteristics are the following.
(1) efficient. The insecticidal effect of the insecticide is generally higher than that of commonly used pesticides, and the effect is good, and the knockdown ability is strong.
(2) broad spectrum. The effective of tobacco pests, including the control effect of sucking and chewing mouthparts pests were good.
(3) low toxicity. In general, the toxicity of human and animal is lower than that of organic phosphorus and amino acid ester.
(4) low residue. The chemical structure of the synthetic natural insecticide is artificially synthesized, which is easy to be decomposed in nature, and the residue is low, and the pollution environment is relatively light.
(5) most varieties have no absorption effect and fumigation effect, so the requirements of uniform spraying.
(6) insect pest resistance. The insecticide is a kind of insecticide which is relatively easy to produce insecticide, and the resistance ratio is very high. Therefore, the use of pesticides in tobacco growing season is not suitable for many times, it should not be used in successive years.