β-Carotene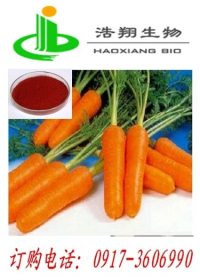 β-Carotene
Source analysis: Carrot is a kind of plant which is introduced from abroad, so the ancient people give it a "Hu". And the name of the carotene, carrots belong to the root vegetables are related to the color of carrots. The orange red pigment of the carrot was later analyzed by the chemist as a chemical, so it was named after the carotene, which has been used to this day. Carrot, is not only nutritious food, but also has anti-cancer and other functions, contains rich carotene and the carrot of multiple micronutrients is a common kind of vegetable. Development of natural carotene food has become an international trend.
Chemical properties: Beta carotene its molecular formula is C40H56, purple or dark red crystalline powder. Insoluble in water, slightly soluble in ethanol and ethyl ether, soluble in chloroform, benzene and oil. Melting point 180 ~ 176. The substance that can be converted to vitamin A in animals is called pre vitamin A (A Provitamin). The representative substance is carotene, which is divided into alpha -, beta -, gamma - three isomers. Beta carotene is more stable and effective.
Conventional production specifications: common beta carotene (beta -Carotene) product categories are: crystal, 30% of the oil suspension, 10% of the water soluble powder, 1% of the water soluble floating liquid and 1.5% of the water soluble powder. As the pure product is generally easy to be oxidized, so the maximum use of 30% of the oil suspension. In addition, the water soluble product is convenient to use, so it is used for the beverage.
Haoxiang Bio (Fermentation process to produce) β-Carotene 1%;β-Carotene 3%;β-Carotene 5%;β-Carotene 10%;β-Carotene 20%;β-Carotene 30%;β-Carotene 96%
Detection method: HPLC
Standard product: β-Carotene 98% 20mg/ bottle
Haoxiang Bio Production specifications: 20mg, 50mg, 100mg, 1g, 10g, 100g, 1kg, 50kg
Packing: Aluminum foil, plastic