Curcumin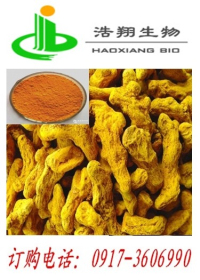 Curcumin
CAS#458-37-7
Molecular Formula: C21H20O6
Molecular Weight: 368.37 g/mol
English alias: C.I. 75300; C.I. Natural Yellow 3;
1,6-Heptadiene-3,5-dione, 1,7-bis(4-hydroxy-3-methoxyphenyl)-,
(E,E)-; 1,7-bis(4-hydroxy-3-methoxyphenyl)-1,6-heptadiene-3,5-dione; diferuloylmethane; curouma; E-100; gelbwurz; Haidr; Halad; haldar; Halud; indian saffron; kachs haldi; merita earth; safra d'inde; souchet; terra merita; tumeric yellow; yellow ginger; yellow root; YO-KIN; (1E,4Z,6E)-5-hydroxy-1,7-bis(4-hydroxy-3-methoxyphenyl)hepta-1,4,6-trien-3-one
Plant source: Curcumin is from Zingiberaceae, Araceae in some plant rhizome extract of a chemical composition, including Jiang Huang, containing about 3% ~ 6%, the plant kingdom is populated with two ketone pigment, two ketones compounds. Curcumin is orange yellow crystalline powder, slightly bitter taste. Insoluble in water. In food production is mainly used in sausage products, canned food, sauce halogen products products such as coloring. Medical studies have shown that curcumin, has the functions of reducing blood fat, anti-inflammatory, antitumor, choleretic, antioxidant effect.
Physical properties: Orange yellow crystalline powder, Melting point 183℃. Insoluble in water and ether, soluble in ethanol and Glacial acetic acid.
The application of Curcumin:
Food For sausage products, canned food, sauce halogen products products such as colored, its use and decide according to normal production needs.
Application in industry
1, Curcumin very early on as a kind of natural pigment is used in the food industry (E100). Mainly used in dyeing canned, sausage products, sauce bittern product.
2, Used as an acid-base indicator, pH 7.8 (Yellow) - 9.2 (Brown)
3, From the extract of Curcuma in separation of curcumin, Demethoxycurcumin and bisdemethoxycurcumin curcumin were introduced, and the carboxylic acid groups, acetylation, hydrogenated structure modification, 4 curcumin derivatives were synthesized, and tested the inhibitory activity of these compounds on the tyrosine enzyme. The results show that single Demethoxycurcumin activity strongest natural curcuminoids, IC51 0.076 mmol/L; structural modification of compounds of curcumin and curcumin derivatives with carboxylic group showed strong inhibitory activity, IC50 0.056 mmol/L. inhibition kinetic studies showed that the inhibitory effect of curcumin derivatives of single Demethoxycurcumin and carboxyl on tyrosinase belong to non competitive inhibition type.
Pharmacological action: Curcumin is a pigment was extracted from Zingiberaceae turmeric, there are other Zingiberaceae plants. Modern research found that curcumin can inhibit the reaction of inflammation, antioxidant, anti rheumatoid role. Vitamin VITY USA magazine reported: "the main pharmacological effect of curcumin has antioxidant, anti-inflammatory, anticoagulant, lipid-lowering, anti atherosclerosis and aging, eliminate free radical and inhibiting tumor growth. In 2006 November, USA "journal Arthritis and rheumatism" article pointed out, curcumin can prevent joint swelling, arthritis, and effective for cardiovascular disease, such as cancer.