Thioctic acid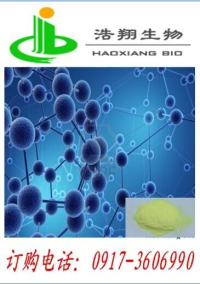 Thioctic acid
Product name: Thioctic acid
CAS#62-46-4;1077-28-7 Purity: 98%
Molecular Formula:C8H13O3S2 EINECS:200-534-6
Molecular Weight:206.3g/mol Steam Pressure: 3.07E-760mmHg at 25°
Melting Point: 58-63℃ Boiling Point: 362.5°C at 760 mmHg Flash Point: 173°C
English name: α- Thioctic acid
English alias:5-(1,2-dithiolan-3-yl)valeric acid; Thiocitic Acid; 1,2-Dithiolane-3-pentanoic acid; 1,2-dithiolane-3-valeric acid; 6,8-thioctic acid; a-lipoic acid; 5-[3-(1,2-dithiolanyl)]pentanoic acid; d-[3-(1,2-dithiacyclopentyl)]pentanoic acid; protogen A; acetate replacing factor; pyruvate oxidation factor; Alpha Lipoic Acid; Lipoic acid; DL-alpha-Lipoic acid; DL-6,8-Dithiooctanoic acid; 5-(dithiolan-3-yl)valeric acid; alpha-Lipoic acid; α-Lipoic Acid; DL-Thioctic acid; 5-(1,2-dithiolan-3-yl)pentanoic acid;
5-[(3R)-1,2-dithiolan-3-yl]pentanoic acid;
5-[(3S)-1,2-dithiolan-3-yl]pentanoate; 5-[(3R)-1,2-dithiolan-3-yl]pentanoate InChI
InChI=1/C8H14O2S2/c9-8(10)4-2-1-3-7-5-6-11-12-7/h7H,1-6H2,(H,9,10)/p-1/t7-/m1/s1
Lipoic acid (alpha lipoic acid) containing eight carbon fatty acid, which is found in the mitochondrial enzyme, similar to vitamin, can eliminate the accelerated aging and disease free radicals in 6, 8 bit on disulfide bond connected (C6 and C8 of hydrogen atoms are substituted disulfide), oxidation, reducing type II. Lipoic acid in the body after intestinal absorption into the cells, both fat soluble and water-soluble characteristics, so it can be in general pass unimpeded and reach any part of the cell and to provide the body with the total effectiveness, it is fat soluble and water soluble of universal antioxidant.
Product use: For the treatment of acute and chronic hepatitis, liver cirrhosis, hepatic coma, fatty liver, diabetes, etc.
Vitamins Drugs used in Europe for the treatment of diabetic neuropathy or neurological complications.
Inhibition of Alzheimer's disease
The lipoic acid drugs the prices low diabetes medication assisted treatment and treatment of Alzheimer's disease drugs commonly used in acetylcholinesterase inhibitor with the use of can effectively inhibit patients attack, and alleviated the part of the patient's condition.
Strong force: Lipoic acid it is involved in energy metabolism, increase other antioxidants to eliminate free radical, promote recovery, improve the body to gain the ability of muscle and fat, but also can improve the insulin sensitivity, help the creatine into the muscle cells and lipoic acid is one of the seven kinds of nutrition block aging. Can nourish, activate cells, improve hair growth.