Resveratol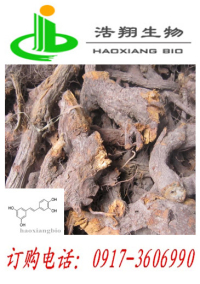 Resveratol
Product name:Resveratol
CAS#501-36-0 Purity:5%-98%
Molecular Formula:C14H12O3
Molecular Weight:228.25g/mol
Alias: trans-3,4,5-Trihydroxystilbene; 3,4',5-Trihydroxy-trans-stilbene; 5-[(1E)-2-(4-Hydroxyphenyl)ethenyl]-1,3-benzenediol; 5-[(E)-2-(4-hydroxyphenyl)ethenyl]benzene-1,3-diol
Chemical name:5-(4-hydroxystyryl)benzene-1,3-diol
Plant origin:Polygonum cuspidatum root extract
Appearance:Light yellow to white fine powder
Solubility: Soluble in methanol, ethanol, diethyl ether, acetone, chloroform
Pharmacology:Antibacterial and antiviral, anti-tumor, hepatitis, inhibit platelet aggregation and thromboxane B2 production. It can prevent the oxidation of LDL, has potential for the prevention and treatment of cardiovascular disease, anticancer, antiviral and immunomodulatory effects, its role as the main performance for its antioxidant properties
Clinical application: for acute icteric infectious hepatitis, blood stasis amenorrhea, rheumatic joint pain, sore muscles, lymph, blood pouring sand, tracheitis, damp-heat in gallstone disease; for the blood cholesterol and high triglycerides; for antioxidant, anti-aging.
The antibacterial and antiviral, anti-tumor, hepatitis, inhibit platelet aggregation and thromboxane B2 production and strong oxidizing, in medicine, health products, cosmetics, a wide range of uses.
Determination of resveratrol content:
Determination of high performance liquid chromatography, chromatography column 4.6*250mm C18,
Acetonitrile: 0.1% phosphoric acid (V/V) =30:70 solution as mobile phase,
UV detector wavelength is set to 306nm.
Results showed that the concentration and peak area showed good linear relationship (r=0.9999) when the concentration of resveratrol was 10 to 250 g/mL, and the recoveries were 9.25% ~ 10.26%. The minimum detectable concentration was 0.6mg/g. The production can be adjusted and measured the velocity of polydatin and resveratrol enzymatic conversion