Cantharidin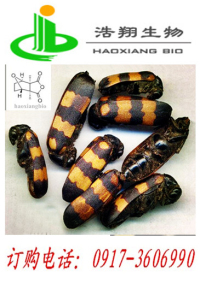 Cantharidin
English alias:Dimethyl-3,6-epoxyperhydrophthalic anhydride;
(1R,2S,3R,6S)-1,2-Dimethyl-3,6-epoxycyclohexane-1,2-dicarboxylic anhydride;
3a,7a-dimethylhexahydro-4,7-epoxy-2-benzofuran-1,3-dione; (3aR,4S,7R,7aS)-3a,7a-dimethylhexahydro-4,7-epoxy-2-benzofuran-1,3-dione; (3aR,4R,7S,7aR)-3a,7a-dimethylhexahydro-4,7-epoxy-2-benzofuran-1,3-dione; (3aR,7aS)-3a,7a-dimethylhexahydro-4,7-epoxy-2-benzofuran-1,3-dione
CAS#56-25-7
EINECS:200-263-3
Molecular Formula: C10H21O4
Molecular Weight:196.1999 g/mol
Definition: Found in a variety of insects, mainly in the blister beetles in the hemolymph of a compound, can cause a person's skin to blister.
The subject: Entomology (a subject); insect physiology and Biochemistry (two subjects)
Source: As Arthropoda Insecta Meloidae (Meloidae) insect Mylabris phalerata Pallas or great southern cantharides Mylabris Cichorii Mylabris Cichorii L.de dry insect body.
Physical property: This product is a rhomboid squamous crystal, insoluble in water, soluble in acetone, chloroform, ethyl ether and ethyl acetate.
Pharmacological action: CTD has inhibitory effects on a variety of experimental animal tumor, especially when the tumor cells of ascites tumor inoculated mice and prolong the survival period, visible. The role of the mechanism may be inhibition of protein synthesis and nucleic acid. No effect on immune function of this product in small doses, larger dose is decreased immune function. Cantharidin (antharidin), exist in Mylabris, cantharides dry insect body, can be used as skin red or sparsely hairy, foaming agent. Preparation of N- by cantharidin OTD prepared (N-hydroxycantharidimide) trial in hepatocellular carcinoma, have certain curative effect.
Indication: Mainly used for liver cancer, breast cancer, lung cancer, esophageal cancer, colon cancer therapy.
Usage and dosage: Oral: every time 0.25 ~ 0.5mg, meals, 3 times a day, the total curative effect for 40mg. Intravenous injection or intravenous drip: daily increased from 0.25mg to 2mg per day, 1 months to 1 course of treatment. Or every time 0.5mg ~ 2.0mg, diluted infusion.
Packing specification: 20mg/bag, 1g/bag, 5g/barrel or according to customers' requirements