(-)-epigallocatechin gallate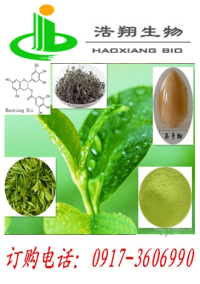 (-)-epigallocatechin gallate
Product source: Isolated in tea catechins monomers is the main component of biological activity of tea polyphenols.
Alias:EGCG,(2R,3R)-5,7-dihydroxy-2-(3,4,5-trihydroxyphenyl)-3,4-dihydro-2H-chromen-3-yl 3,4,5-trihydroxybenzoate
CAS#84650-60-2
Molecular Formula: C22H18O11
Molecular Weight:458.37 g/mol Density:1.9g/ cm3
(-)-epigallocatechin gallate(EGCG)Food industry for the antioxidant, fresh, deodorant, the pharmaceutical industry for antibacterial, anti-cancer, anti-aging, the special features of the product as a special additive.
EGCG: a kind of polyphenolic compounds extracted from green tea, Baoli skin residing in American medical experts in the study found, EGCG, although not through the epidermis, but it can be for most external epidermal layer of cells to provide energy and the cell split again, differentiation and enhance its activity, so that the state of the surface of the skin can be improved. Since Green Tea extraction to dissolve fat, also has effect of Huazhuo oil.
EGCG is the main component of green tea polyphenols and tea catechins class of principal component, which accounts for 10-15% of green tea catechins total, catechins including EGCG, EGC, ECG, EC, ECG and, which antioxidant activity followed by EC<ECG<EGC<EGCG.
Many studies suggest that EGCG has anti free radical damage DNA, anti ultraviolet radiation and, prevent oil oxidation, reduction of LDL cholesterol in the serum, ultra low density cholesterol and triglyceride content, interferes with cancer cells need to survive for the signal transmission, inhibit the carcinogenic substances in the diet, and intestines, liver and lung of other enzymes and antioxidant effects together to prevent the activity of certain carcinogens, scavenging free radicals, to resist the effects of pollution, sun and smoking and the prevention and treatment of skin aging and wrinkling.