Hesperidin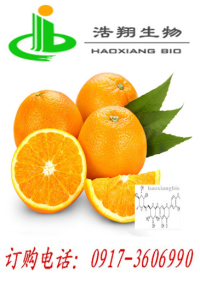 Hesperidin
Product name:Hesperidin
CAS#520-26-3 Purity:98%
Molecular Formula:C28H34O15
Molecular Weight:610.55g/mol
Plant origin:Rutaceae lime Citrus aurantium L. and Dits cultivars, Pure natural extract
Appearance: light yellow powder
Solubility:soluble in 50 liters of water to 1 grams. In 60 dissolved in two dimethyl formamide and formamide. Slightly soluble in methanol and acetic acid, almost insoluble in acetone, benzene and chloroform, but soluble in dilute alkali and pyridine
Effect and uses:
1, anti-inflammatory: on guinea pig due to blood cell of vascular eye conjunctiva C lack of vitamin A and the internal condensation and capillary resistance improved (enhance the role of vitamin C); but there are also reports it could reduce the horse blood cell aggregation. It and embolism (Thrombogenic) and atherogenic feed or feed co fed rats, can prolong the survival time of rats. Growth speed induced a lack of vitamin C in guinea pigs. Can enhance the guinea pig adrenal ascorbic acid, spleen and white blood cells (vitamin C) content.
2, vesicular stomatitis virus antiviral: join, mouse fibroblasts on the award of 200 ug/ml pre incubation in this product, thus treated, can protect cells against infection of approximately 24 hours. Pretreatment of HeLa cells with this product, can prevent influenza virus infection. The antiviral activity can be reduced by hyaluronidase
3, the other with aldehyde reductase: lens frostbite prevention and inhibition of rat eyes.
Effect: the prevention and treatment of cardiovascular disease, regulating blood glucose and blood lipid, blood pressure regulation, cardiovascular health, body regulation, antibacterial, antiviral effect.