Emodin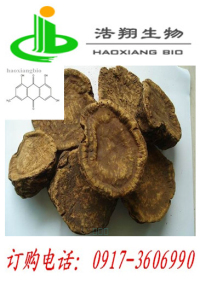 Emodin
Product name:Emodin
CAS#518-82-1 Purity:50% 98%
Molecular Formula:C15H10O5
Molecular Weight:270.32/mol
Plant origin:Polygonum cuspidatum root . The rhizome of Rheum palmatum.
Pharmacodynamics:emodin can be used as a laxative, though a purgative activity, but because the body susceptible to oxidative damage, in fact purgative effect is very weak, such as sugar and knot synthesis glycosides, can play a laxative effect. Emodin -1-O- β -D- glucoside and emodin -8-O- β -D- glucoside is emodin combined with glucose glycosides, but two with different location, at the same time in rhubarb. Another antibiotic, cough, anti-tumor, antihypertensive effec
Physical properties:Orange long acicular crystallization, melting point 256 ~ 257 . Special reaction with anthraquinone. Almost insoluble in water, soluble in ethanol and aqueous alkali.