Salvianolic acid B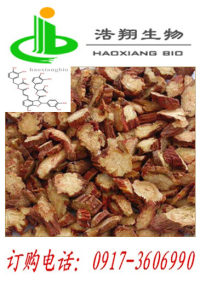 Salvianolic acid B
Product name:Salvianolic B
CAS#115939-25-8 Purity:5% 8% 10% 50%98%
Molecular Formula: C36H28O16
Molecular Weight: 718.62/mol
Plant origin:Labiatae plant Salvia miltiorrhiza (Salvia miltiorrhiza Bunge) and dry root extract
2-[(2R,3S)-4-[(E)-2-[(1R)-1-carboxy-2-(3,4-dihydroxyphenyl)ethoxy]carbonylethenyl]-2-(3,4-dihydroxyphenyl)-7-hydroxy-2,3-dihydrobenzofuran-3-carbonyl]oxy-3-(3,4-dihydroxyphenyl)propanoic acid.
Physical properties:yellow brown powder, pure product is white powder; taste slightly bitter, astringent, with moisture.. Soluble in water, ethanol, methanol. Salvianolic acid B is formed by the condensation of 3 molecules of Coffee acid of Danshensu and 1 molecules, with two carboxyl groups, there is a different salt forms (K+, Ca2+, Na+, NH4+ composite form), decocting, concentrating in the process, a small part of hydrolysis of lithospermic acid and danshensu, a part of Danshensu in acidic conditions into rosmarinic acid; salvianolic acid A, C in the solution can interconvert etc..
Chromatographic conditions: Methanol - acetonitrile and formic acid water (30:10:1:59) detection wavelength: 286nm
Simple extraction process of Radix Salviae Miltiorrhizae crushing, extraction: the pot, add 8 times the amount of 0.01mol/L hydrochloric acid soak overnight, with 14 times amount of water percolation. Osmotic solution were extracted through AB-8 macroporous resin column for purification, first with 0.01mol/L hydrochloric acid eluting impurity removal by adsorption, then eluted with 25% alcohol to remove the more polar impurities, finally 40% ethanol eluent is decompressed and concentrated ethanol recovery after freeze-dried to obtain the total salvianolic acid purity greater than 80%.
Haoxiang biological production specifications: salvianolic acid B Salvianolic acid 10% B5% 50% HPLC 8%
Pharmacological effects:salvianolic acid B as three molecular Danshensu and a molecular Coffee acid condensation, is one of the more salvianolic acid, are important pharmacological effects on the heart, brain, liver, kidney and other organs.
Clinical application:salvianolic acid B has the blood circulation, the effect through the meridians, mainly used for blood stasis caused by main and collateral channels in ischemic stroke, disease sees body numbness, weakness, spasm pain, or exercise fail, Kouyanwaixie etc..
Salvianolic acid B has strong antioxidant effect, in vitro and in vivo experiments, salvianolic acid B can scavenge oxygen free radical, inhibiting lipid peroxidation, its intensity is higher than that of vitamin C, vitamin E, mannitol, is one of the strongest antioxidant effect of natural products known at present. The pharmacological research showed that, has obvious antioxidant effect the use of salvianolic acid injection, inhibit platelet aggregation, and inhibition of thrombosis, and can prolong the survival time of the animal under hypoxic conditions.